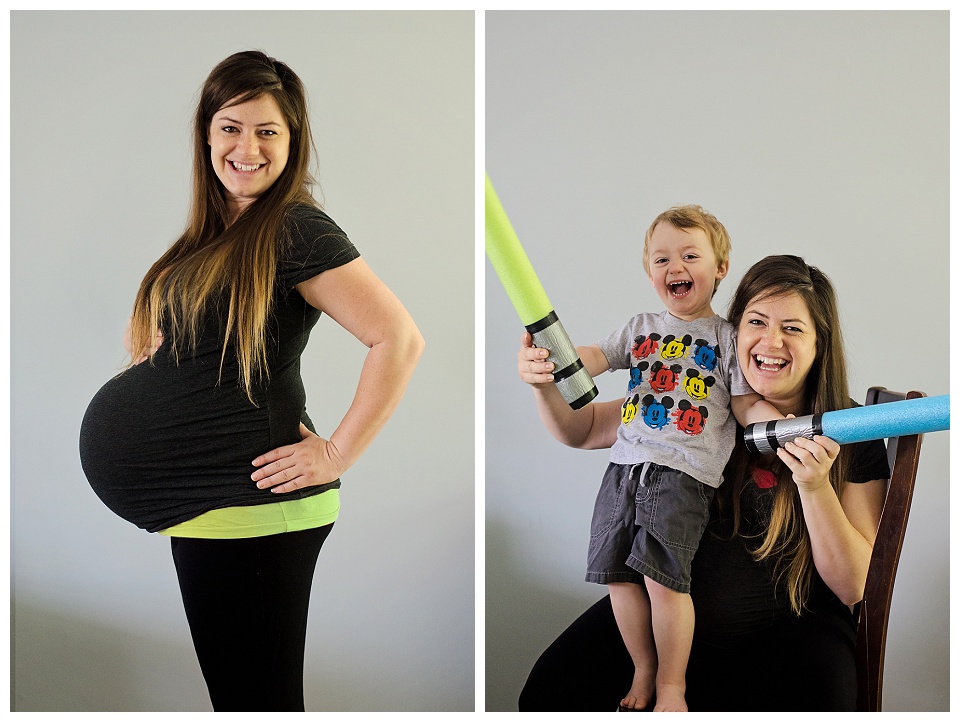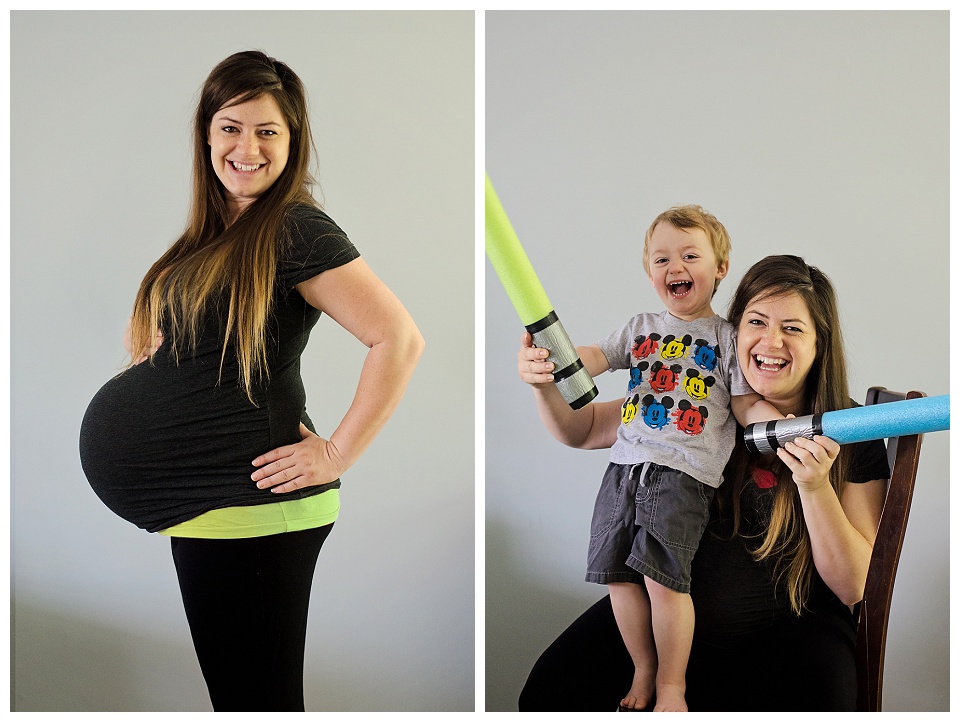 You know what's crazy? Thinking this might actually be my last update before Finn is born!!! Part of me wants to make it to 40 weeks because it's a nice, complete number for pregnancy. I also love my due date and would be thrilled to have a Star Wars baby. However… part of me would love to be rewarded (immediately) for my anxious anticipation the past couple weeks! It's funny how easily distracted I was during the first several months from the fact that I was pregnant, but 2-3 weeks before due date I find myself feeling like I can't wait another second, like I can't remember what it feels like to not be huge and hungry, like I haven't been able to lay on my stomach for years. But really, it has only been a few months that I've been largely pregnant and you could almost say I didn't even notice. Now I think about those days right after you give birth when you struggle to adjust to your non-pregnant self and yet I just adjusted to being pregnant.
The truth is that the nesting and the wondering and the deep philosophical ramblings in my brain pale in comparison to the simple longing I have to meet my baby and start his story!!! I mentioned it in a previous update, but that is the thing I am most excited about: Discovering his story! When will I go into labor? How long will it be? What will he look like? What will those first moments be like? What will be those first memories I keep with me forever? I am so excited I can barely contain myself.
Last weekend we had a party for Steven to celebrate his 30th birthday. I couldn't really talk about it too much on my blog since it was a surprise, but I have been occupying my time lately with plans for the party, crafting fun Star Wars things and prepping presents. It turned out pretty great, most of my family were there along with Steven's family and some friends. I was anxious for everything to come together and for him to have a special day all to himself, so I had hoped baby would hold off until afterwards, and he did! Not to say there wasn't a moment or two when I freaked out, thinking he was coming early. For instance, Friday morning I woke up in the middle of an extra strong contraction around 4:30 and had a mini panic moment because that's how labor began with Miles. After that I couldn't sleep, so I stayed awake, mentally preparing in case this really was it and timing my contractions. After about an hour or so I was pretty certain they were just really strong Braxton hicks and I could relax a bit. They weren't getting any stronger or closer together, so I took a warm shower and packed some things in our hospital bag and waited it out. It was weird because I don't usually have as many Braxton Hicks contractions in the morning, they're usually a nighttime thing during this pregnancy. Oh well, it certainly pushed me into a new phase of nesting because our hospital bag was packed and ready to go Saturday morning, just in case.
I took advantage of the continuing urge to nest and sewed some leggings and a hat for Finn's going home outfit as well as decorated some onesies. Unfortunately I spent most of the day on Friday trying to fix a problem with my sewing machine, effectively wasting the majority of my day and ending up with a non-functioning machine and a number of broken needles. I dropped it off to a service center yesterday before my Dr. appointment and they should have it all fixed up for me on Friday. I'm not sure how much use I'll be able to get out of it before baby arrives, but I'm looking forward to having a machine that actually works. It's really driving me crazy because I feel like sewing more than any other thing right now. It's also silly, since there are so many higher priority things I could be accomplishing.
Further nesting on Sunday resulted in a rearranged pantry cabinet, a vacuumed car, and a fully cleaned and organized room for the boys. Today I've managed to pick up some more and do some laundry. It's the only thing keeping me sane right now while I wait… finding things to clean and keep me busy. Later I plan to sanitize pacifiers and bottles and prepare a yummy steak dinner for Steven since today is his actual birthday. I also plan to make a crepe cake similar to this one I saw on Pinterest.
I feel like I had so many things to talk about this week, but that's probably because so many thoughts are running around in my brain lately as I wait for baby to get here. I guess most of them are repeats.
Baby's Size| Mini-watermelon. Not sure about the mini part…
How far along | 39 weeks
Sleep | Decent. So much pain when I wake up and need to turn over or pee or walk or breathe. So I guess you could say the sleep is great, it's the waking up that sucks.
Clothes | I have one particular black maternity dress that I rediscovered a few weeks ago and it has become my go to thing for weekends. It's insanely comfortable, relatively flattering and just right to wear with leggings and either my Uggs, or my favorite sandals. Except that those favorite sandals broke this week! They were my favorite warm-weather shoe for two summers in a row. Hoping I can find something similar this summer once my feet are human-sized again.
Cravings | Hands down this week's craving is decaf coffee and donut holes from the Walmart bakery. Simple enough but I have yet to eat enough in one sitting to actually make me want to stop eating them. Instead, I forcefully cut myself off around 7 donuts. I crave them every time of day. I also still enjoy a cupcake a day along with granola and frequent trips to Chickfila. Ugh. I'll tell you in the Dr appointment section, but it hasn't been good for my weight gain. I think something in my brain is trying to take advantage of the remaining days of this pregnancy to indulge while I still enjoy food this much and have an excuse.
Food Aversions |  Most of my aversions are related to things that sound hard to chew, since I'm dealing with tooth problems. I'm excited to get those worked on soon after baby is born! I also like to use this reasoning for my donut indulgences, as they're so soft and easy to chew.
Symptoms | BH contractions still rule this week. I don't remember them feeling this strong and hurting this much with my first pregnancy. They are accompanied by pressure everywhere! On my nethers, on my lungs (hard. to. breathe.), on the nerves in my back, on my bladder. It's insanity. For cleaning out the car, I was rewarded with hips that are once again awake with a constant, fiery pain. My swelling reached an all-time high last night. Well… at least an all-pregnancy high. The swelling this pregnancy is more wide-spread instead of localized to the feet and ankles like with my first. The joints in my hand are achy and stiff because of it.
Doctor's Appointment | Eh. Still a good 1 cm dilated, but cervix is thinning (you're welcome) so she says I'm nearing 70% effaced. People keeps saying it looks like I've dropped and I would have to agree. He's still high compared to Miles but I feel the weight lower and I am officially waddling because of the way everything is positioned down there. Oh, and I suppose I have to tell you I gained 3.5 lbs in 5 days. My grand total is 55 lbs gained this pregnancy so far.
Movement | Slowed down just a bit, but that doesn't mean much with this one. He still loves to jab me and wriggle around. It's driving me crazy because I just want to see those feet and knees that he keeps jabbing me with and I want to rub my hands on the tiny head that keeps butting my crotch.
Belly Button | It's itchy. Doc said she doesn't think it's Puppps again, but it isn't pleasant.
Gender | This ties into my next heading but OMG… boy!!! :) My best friend, Lizzy just found out yesterday that they are going to have a boy! Miles' girlfriend, Natalia is also going to have a baby brother!!! I am overjoyed for her and her little family. I can't wait to meet him and see him and Finn grow up together! Here is a sono profile of Lizzy's SON!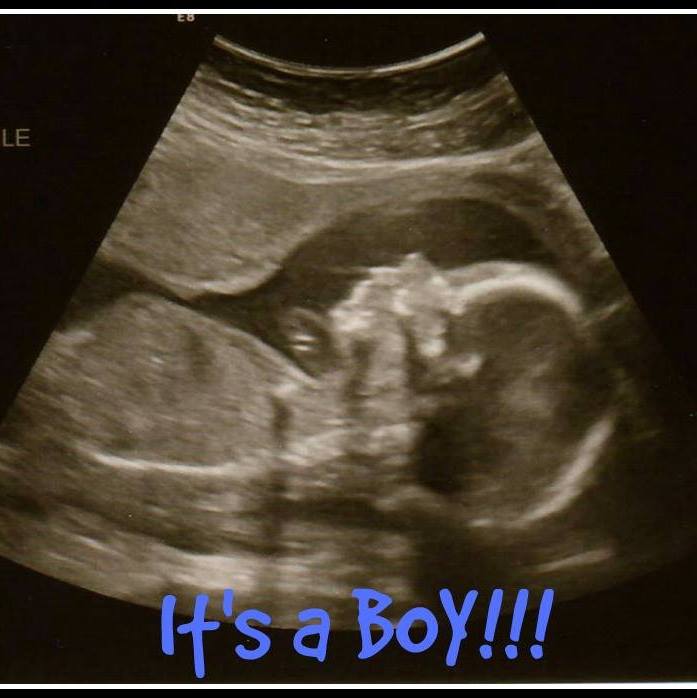 Best moment of the week | Finding out that Lizzy is having a boy and celebrating at Steven's surprise party. I also got a wax and pedicure, so it was a good week.
What I'm looking forward to | Taking his "coming home" picture with the cute little hat I made him last week. <3
What I miss | I feel like I'm already starting to miss my pregnancy! It just went so fast and it makes me wonder if I should have tried to appreciate it more. Oh well, that is minor compared to the excitement of having my baby and not being pregnant. Somehow those statements actually do work together…