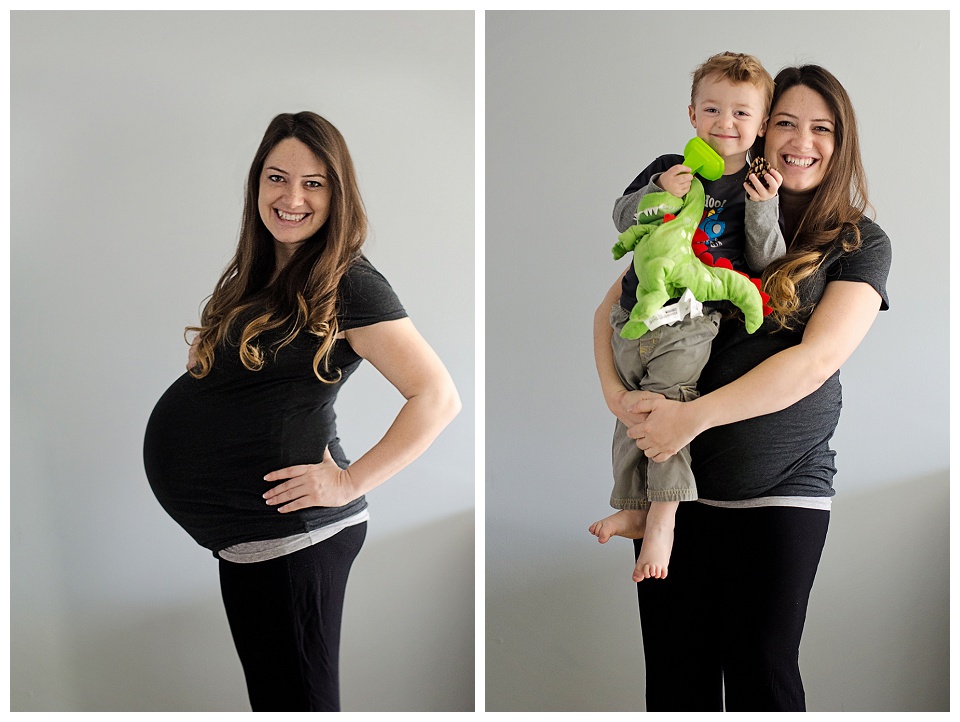 his week I feel about as unfocused as my picture turned out! We've been spending the week getting used to our routine again after returning from my parents last weekend. Something about the last two weeks seems to have sent my pregnant-ness into superdrive! I went from feeling moderately pregnant with some annoying pains to OH MY WORD I can barely move, someone please come carry me around everywhere and make my joints stop screaming! I truly don't mean to complain as much as I do, but if I have to think about how annoying these things are a bazillion times a day, it's hard not to talk about it when I have the chance. I'm almost to the the point where anything that drops to the floor is dead to me. DEAD I tell you!!! Actually that will probably be my status next week, this week I just curse the object that fell and grunt extra loud when I bend down to pick it up. I say "bend" down, but really it's something more like a creaky, stiff contortion of hilarity. Oh, and if we're in Best Buy and Miles decides to take off at full speed down the aisle, there is zero hope of me being able to catch him. Thank goodness I seem to only visit Best Buy along with my husband.
I guess that's it for all the complaining. NOT! I also have a strange nerve pain in my upper hip (read: Butt cheek) I'm assuming it's my sciatic nerve, although I thought I had sciatica with my first pregnancy, but the pains hurt differently, so I really have no clue what I'm saying. Baby has made an adjustment in position the last few days and all of a sudden he is poking SOMETHING downwards into my… stuff. It hurts. If I sit or lay down for more than a minute, I will find myself truly questioning if I'm going to be able to get up.
All those things are annoying, but I still have to admit that it beats my previous, miserable pregnancy.  I have other things to be grateful for, such as my husband who chases our two year old through Best Buy and every other place we go. He also keeps his grumblings to a minimum when I ask for things like ice cream and Panera bagels to satisfy my cravings. I have friends who let me whine to them. I find joy in day dreaming about doing things (I didn't actually accomplish much this week, but I thought a lot about accomplishing things). So you see? There are good things going on. I also got to drop by Ikea Saturday. That always is sure to make me smile. Even better, we bought a dresser to put in the boys' room for the new baby!!! Next order of business is you assemble it and start loading it up with all the tiny onesies and PJs from my stash of baby boy clothes. Just one of the many tasks I will be day dreaming about doing in the week ahead, I'm sure.
Baby's Size| Cucumber
How far along | 30 weeks
Sleep | Miles has been going to bed early (or on time I guess) and this is great because it allows Steven and I a chance to watch TV (and eat ice cream) in peace, but it also means that when Miles is jumping on the bed, wide awake at 7 a.m. I find myself yearning for another hour of sleep. Otherwise it's been average sleep for pregnant me… frequent bathroom wakings and endless strange dreams.
Clothes | This week during my previous pregnancy I said "Next time I think I'll be pregnant in the fall, thank you" and here I am pregnant during the winter months and I truly love it. I have been waking up in a pool of sweat still, but I can't remember the last time I actually felt a chill in my bones the way I normally feel during winter. Also, I am really getting big. I know this first because it's evident when I see my reflection in the mirror, but I also noticed the new dress I just wore for the first time three weeks ago is almost too tight to wear at all. Sigh. I also have found that most of the zip hoodies I've been wearing the last few months can't actually zip over my belly anymore. This made me think to myself how fun it would be if I could buy a maternity hoodie. I'm assuming those exist and I'm feeling pretty determined to find one now.
Cravings | It's funny how cravings can be influenced by the season. Last pregnancy during this week I craved peaches, watermelon and cantelope which I haven't even tasted once this pregnancy. Instead I make myself smoothies with pineapple, banana, spinach, yogurt and a splash of grapefruit juice. In fact I think I'll be making one for myself when Miles wakes up from his nap in a bit. I also craved Panera cinnamon crunch bagels with cream cheese. I think I might also have to make one of those for a snack, too.
Food Aversions |  Nothing at all. I even have been enjoying mushrooms lately, which I've despised my whole life.
Symptoms | I covered most of these in my complaints above, but here they are: mild swelling, nerve pain in my butt, baby kicking my crotch, throbbing back if I sit at my computer too long, general weakness and achiness. End.
Doctor's Appointment | The sugar swill wasn't as bad as I was expecting. They took my blood and I'll hear back about that sometime this week. I met for my usual appt with a nurse practitioner that seems completely ignorant, but it doesn't matter because I didn't really have anything important I needed from her. Starting at my next appointment in two weeks I'll be seeing my actual Dr. for the remainder of the pregnancy. I'm happy about this.
Movement | It's insane how much this baby moves. I wonder if this is a foreshadowing of his personality outside the womb, if he'll be just as squirmy haha. I feel hiccups consistently now. He flips around so much! There are crazy twists where baby will completely swivel and scrape my uterus from the inside… it's almost scary, all that movement in a place you can't access. It's also kind of painful, but I don't care because it's more than equally exciting.
Belly Button | I've begun to subconsciously rub my hand on it over and over like a weirdie.
Gender | Gentleman.
Best moment of the week | Buying a dresser was a nice step. I also have been happy to see Miles achieving new skills like color matching and learning some letters during our "school" time in the morning.
What I'm looking forward to | Touring Shawnee Mission Birth Center (haven't actually made an appointment but I want to do this soon), tucking newborn baby things into our dresser and buying some new pacifiers.
What I miss | Going to Dicks Sporting Goods and believing I could wear those things and be more active. At least when I'm not pregnant I can deceive myself into thinking I would actually wear and use running shoes or exercise … things…