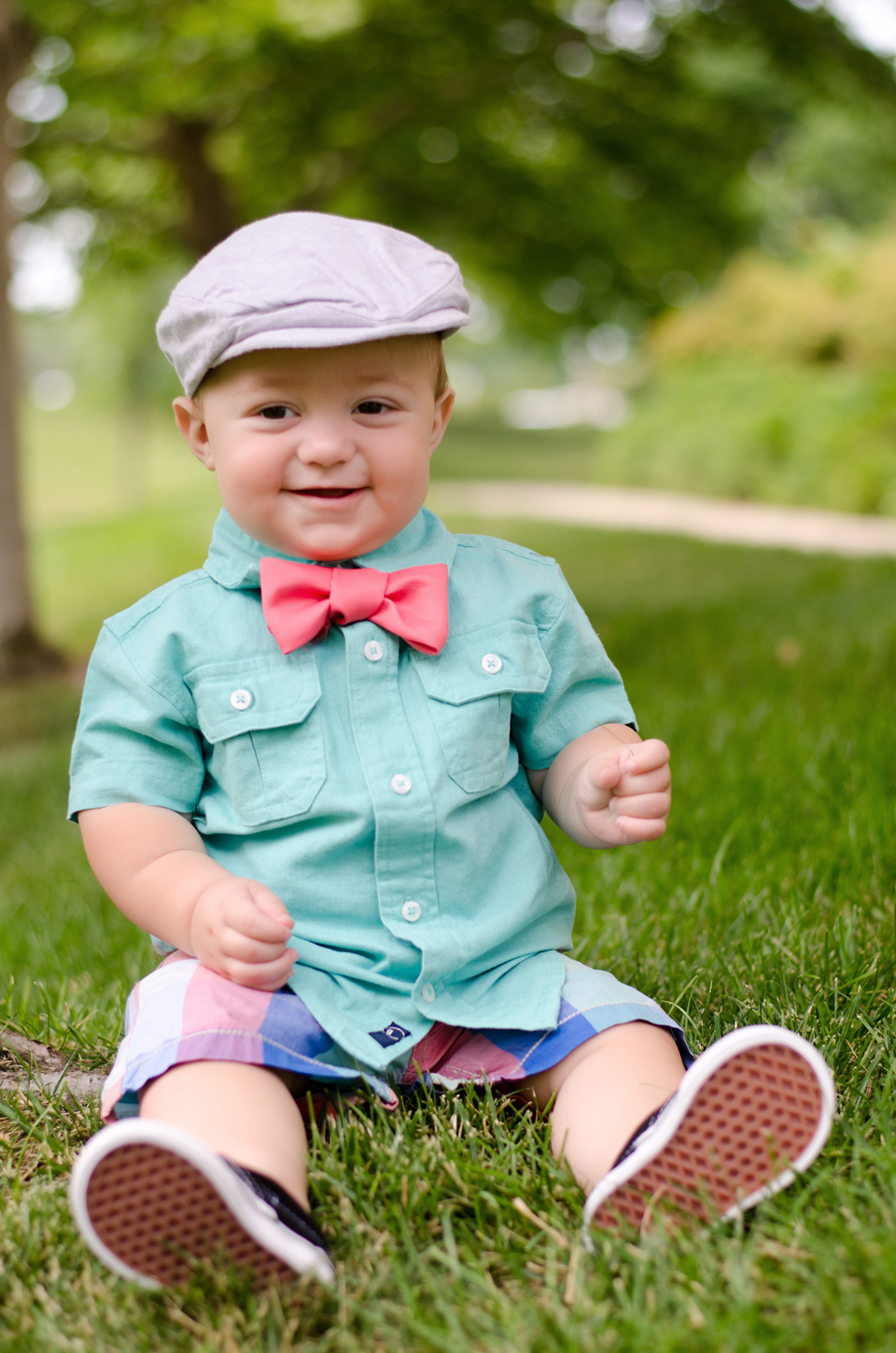 I'm actually beginning to write this early! What a miracle!
This month has been ripe for development and exploding with personality. Miles is pulling up on everything, attempting to climb over every toy, box, lap or other obstacle in his path. Usually a path that seems to have been chosen specifically for it's complexity and ability to present him with a challenge. There is no doubt he inherited that trait from his daddy.
Miles now shakes his head back and forth. He seems to do it when he's sick of something and trying desperately to tell me he wants no more of such activity. He also does it to amuse and impress onlookers or to tease us while playing. It's so adorable I can barely take it. He also is making a deep "HUH!" noise which I am going to guess is a pretty serious expression of something going on in that brilliant brain of his. Very insistent. If you reply with a "HUH!" of your own, he'll continue that banter for a few rounds.
We had Miles' 9 month well-visit appointment a couple weeks late and he has dropped just a bit into the 83rd percentile for both height and weight, which is still chunk and healthy and proportional, which is satisfactory. I also have had to finally admit the full extent of my over-cautiousness when it comes to foods. I've just been so freaked out to give him anything that would be dangerous or unhealthy or overwhelming. Doc has encouraged my new found determination to expand Miles' culinary horizons. Dairy and sugar (with moderation) and finger foods here we come! Prepare to be thrown around the room and crunched under feet and smooshed into hair.
We've been taking Miles swimming alot already this summer. We probably go about 2-3 times a week now. He loves the water. Sometimes he'll just chill and observe the people around us and the patterns the ripples make and other times he slashes and kicks and squawks with glee. With all the articles I have read lately about the dangers of commercial sun screens, I swallowed the cost of some Badger Baby Sun Cream for a whopping $20. I knew it wasn't going to be a huge amount but I cringed when I saw how tiny the tube was. I'm supposed to apply 2 mg per square centimeter, which seems like a LOT since the whole tube is 80 mg… and my baby's surface area is extensive. Oh well. I feel so much better putting it on him and it smells healthy and doesn't sting anything (the Aveeno baby I had before made my skin and eyes sting and seemed to wash off in the water even though it wasn't supposed to do that).
With Miles so mobile these days (and so much fun to play with) it has been harder than ever to get anything else done. I have design and photo work oozing out my ears and the naps are getting shorter. Just thanking God for the blessing of business and handing Steven the baby for the evening now and again in order to catch up. I'm hoping things will have slowed down a bit by the end of the month so I can put some energy into planning Miles' 1st birthday party. It's coming way way way too quickly!
Growth
According to his mid-month well visit he is about 24 lbs and 30 inches long!
Development
Strength & Mobility
He pulls himself up on everything and can sit himself down and make his way around just about anything. He opens cabinets and pulls up on shelves and pulls things out of baskets and explore absolutely everything in sight! He's just recently started cruising this week. I expect he'll be walking sometime around the 1-year mark. He likes to take his time, my cautious little boy.
Hand/Eye Coordination
His pincer grasp is pretty great these days and he has discovered that you can use objects on other objects. He loves hammering and "sword fighting" with toys, he loves to grab an object in each hand and see what he can do by banging them together and such.
Food
I touched on this in the first section, but I now have the go ahead for cheese and yogurt and things with just a little sugar. I'm going to start letting myself just feed him a bit of what I'm eating and see how he takes it. I have a feeling he's going to be pretty excited about more finger foods. He likes the challenge and the chance to learn. I can barely feed him baby food anymore because he keeps trying to grab the spoon to do it himself.
Sleep
Just when I thought I could live with the system that has evolved, it's time to switch it up. Doc also says I need to try to quit the night feedings. You hear people talk about all the work it takes to break the night-feeding habit but I don't think I've ever had anyone tell me why it's so important except that they get to sleep more, etc… Finally I understand at least one of the reasons since the Doc explained how bad the sugar in my breast-milk is to his teeth when he's sleeping. I feel dumb for not knowing this. So I'm going to try to pump enough to feed Miles a big bottle before bed to hopefully hold him over longer and it will probably take a few uncomfortable nights (or more) for us to break the habit. I think this is a good time to try to get him to sleep in his crib, finally, too. I desperately hope that next month I have new and exciting progress to share with you all in this area.
Social & Vocalization
He is shy but he loves to watch people, especially kids. He can say most of his consonants now and babbles in high and low voices. We're trying to teach him clapping and waving and kissing. I am pretty sure he has kissed me at least once when I asked for it but usually he smiles and turns away. He played peek-a-boo with a bank teller yesterday.
Memories
We spent 4th of July with Steven's family at Table Rock lake. It was a fun little mini-vacation and we go to enjoy the lake on a boat for a day and we took Miles to Silver Dollar City for the first time. Oh, sidenote… I finally got to ride a roller coaster again for the first time in … I don't even know, four years maybe?! It was one of the best experiences. I can't get enough of roller coasters. It was such a thrill, I was soaring (both literally and figuratively I mean) I just want my own roller coaster in the backyard like Richie Rich.
My computer will sometimes randomly restart itself and open my previous internet tabs, so if I had a YouTube video open it will start playing the video. This happened in the middle of the night a few weeks ago and started playing "Drunken Whaler" . I was so confused, especially when the line "… up she rises early in the morning." I was like "Yes, it is early in the  morning. Wait. What? What's happening?" Also it's creepy. Not a song you want to wake up to at 4 a.m. in a dark room.
Steven brought out his light saber for Miles to play with for the fist time. He's been dying to show Miles every since before he was born. He was pretty fascinated and he still enjoys grabbing it and trying to figure out how to turn it on.
I really need to start writing these down. There were so many this month!
Other Photos