Modern Black and White Advent Calendar – Free Printable!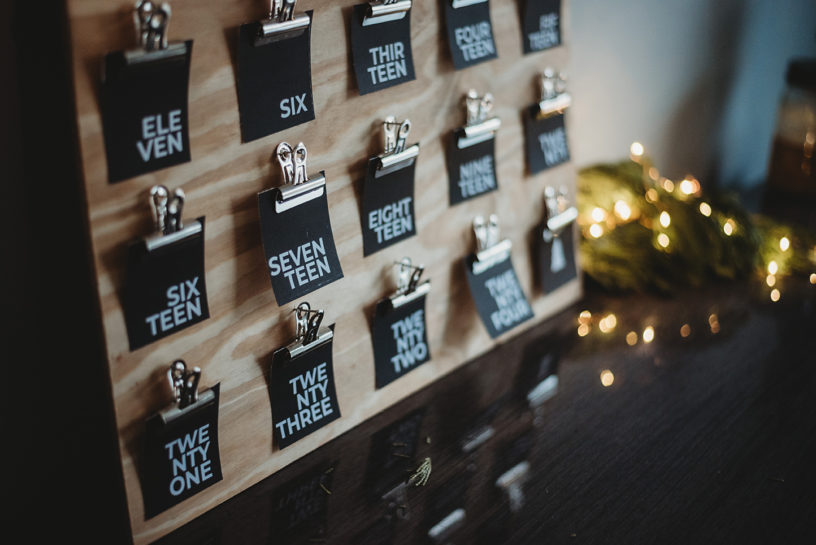 I'm relatively new to the Christmas advent calendar scene. This is maybe the 3rd or 4th year I've done one. The first year I started little boxes that each held a small candy. The boxes were cute, but I wasn't a fan of the candy thing. Last year my best friend and I were talking about our advent calendars and she said she was going to make cards with different verses and/or activities for each day. I loved the idea so I started that tradition last year. I really enjoyed it and the kids did, too. I put the work into making this board for my calendar last year and simply updated the front of the cards with a new design for this year.
Here's a quick run-down of the materials I used to set up the board for the calendar last year. Scroll to the end of this post to download a free PDF printable of this year's calendar design.
The backboard
This is a piece of craft plywood I grabbed from Home Depot. Chosen based on color, size, and the thickness (I chose something thin because I wasn't sure if I wanted to hang it, but thought I shouldn't go too heavy. I'm also cheap and it was less money. I'm sure it would work with a thicker board, too.)
Nails
I used small, white nails that I bought years ago in a picture hanging kit. They're very small in diameter and about 2 inches long. I measured out the distances and put pencil marks where I wanted the nails. Then I hammered them in a short way (I had a thin board after all and didn't want them to poke out the back.) It's been a full year since my brain calculated out the measurements, but I used a post-it note as my reference for the card sizes and made sure to put the nails of the top row closer to the top and leave more room on the bottom row to allow for the height of the cards.
Clips
I had a box of these bulldog clips already and still had 25 unused. They have a tiny hole in the top of the clip that fit my small nails just right. I was daydreaming about using my copper binder clips like these but I only have six right now and I'm cheap. Actually, now I see they're not too expensive after all! *Adding to Christmas list for next year.