I could go on and on about the wonderful weekend we just had… in fact, I basically did during Tuesday's post. It is full of details and photos about our gender reveal, which we did during my sister's graduation picnic last Sunday. The whole day was incredible and the reveal turned out even better than I had expected! It was by far the highlight of my week. I could say more, but it would pale in comparison to how great it was, so just go read that post if you want to know the thoughts on my mind these days. Everything else will probably be covered in the weekly update survey below.
The Bump: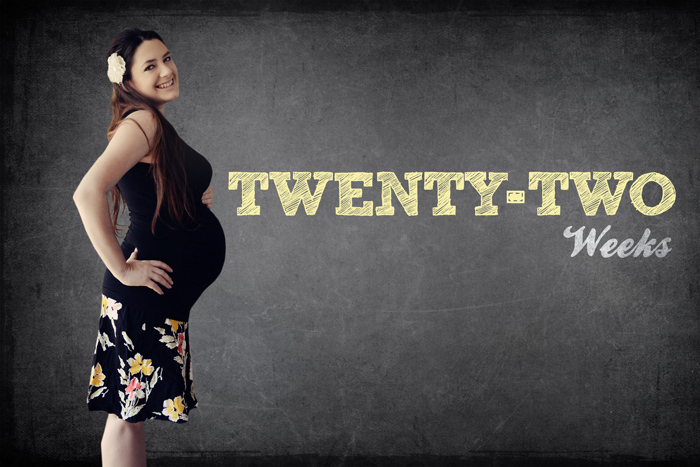 Baby's Size| Spaghetti Squash
How far along | 22 weeks
Sleep | The weekend found me sleeping the oddest hours yet, but it didn't throw me off too much, luckily. I've had some baby dreams and finally they are almost realistic, featuring an infant baby boy. I am happy just to be able to pee only 2-3 times a night and not trip over myself on the way to the bathroom.
Clothes | Been rocking the maternity shorts and a few new dresses. I also found the perfect maternity swimsuit, but I'm still debating whether it's worth the cost or not.
Cravings | I had the PERFECT strawberry lime real fruit slushy from Sonic on Friday with Liz! It. Was. Heaven. In fact I might go get one after I finish writing this post! LOL. I also made a chicken salad sandwich for lunch on Monday and accidentally squirted a little more dijon mustard into the mix than normal, but after one bite I realized it was the most brilliant accident! Now I want mustard…
Food Aversions |  I think I can safely say that I didn't have a single aversion all week. I want food. I love it. I want to stuff my rapidly expanding body with it. I recognize that this isn't the best way to approach eating during pregnancy, but right now I'm just learning to pick my battles.
Symptoms | Similar to what it's been: lots of back and hip pain, sore feet and hands, clumsiness, the occasional baby brain moment and intense hunger pains.
Doctor's Appointment | This is a funny story. I woke up Monday morning, wishing I could have slept in, just laying in bed. I glanced through my phone and noticed that my calendar said I had a 9:15 appt!!! I jumped out of bed and grabbed food and water and clothes just in time to get there with a few minutes to spare. I walk up to check in and the lady at the desk tells me that none of the doctors or nurse practitioner are here so she checked the schedule. Yeah, my appointment wasn't until 2:15 yesterday, Wednesday the 23. Oops. All I can think of is that I must have confused the ultrasound appointment from two weeks ago with the one today and wrote them both down as Monday morning in my calendar. Ugh. I felt dumb.
Movement | I'm LOVING it! He will be off and on moving all day and then all of sudden it's like he breaks out in dance! I feel kick after kick for several minutes straight. It takes me by surprise and I love it. Also, Lizzy and Steven both were able to feel the kicks from the outside over the weekend!!! I'm so happy Steven can feel it now. I know the movements are just going to get more intense and I'm both excited and scared for it.
Belly Button | Losing more of it by the day.
Gender | I can finally say… BOY!!!!!!!!!
Best moment of the week | I can't even pick. Holding my new nephew, hugging my best friend, revealing the gender… all so SO amazing.
What I miss | I feel so full of joy and love right now I can barely think of what I miss. But I guess I'll say I miss my pre-preggo feet. :) In both appearance and feeling.