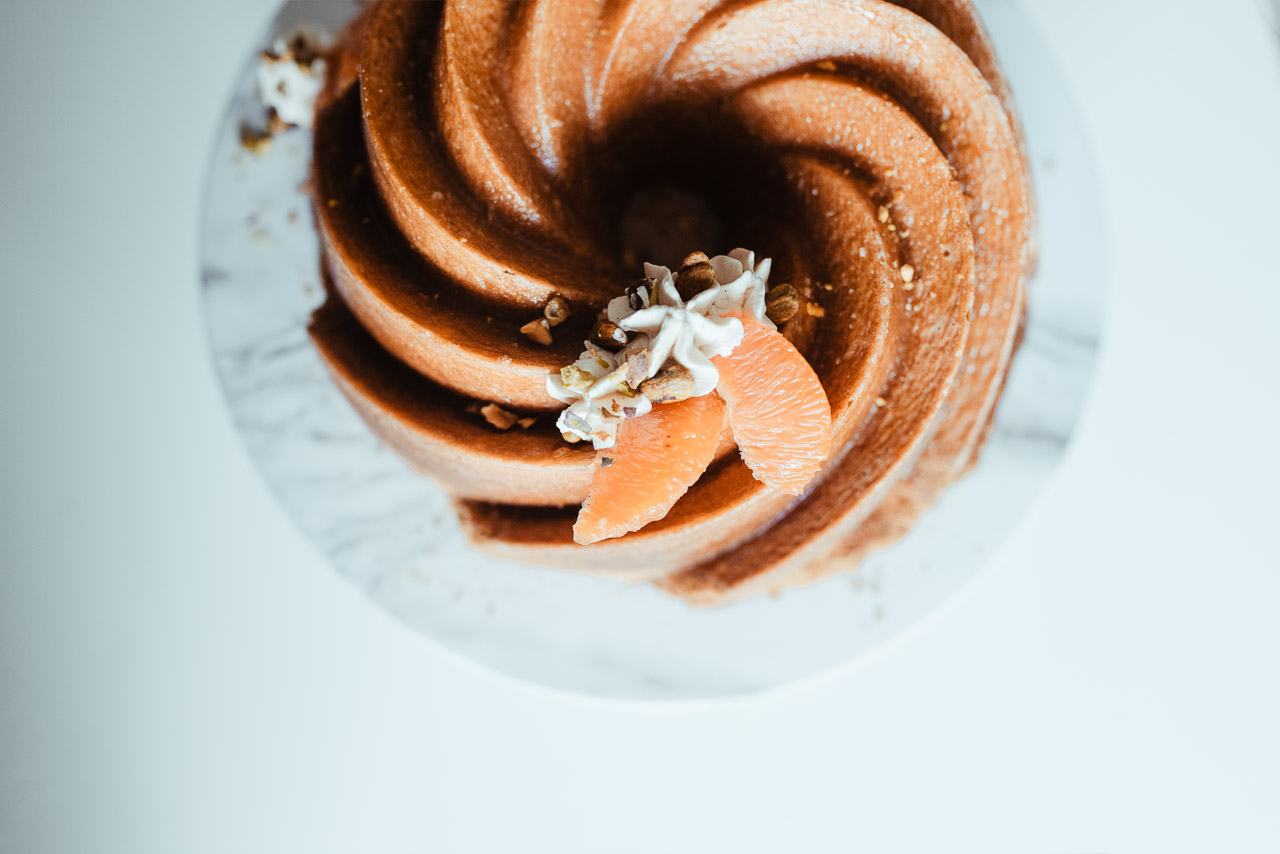 A storm is brewing
During one of those rabbit hole explorations of Amazon offerings, I came upon sacred geometry bundt pans and fell in love. I tried my best to narrow it down to a favorite and added it to my wishlist. Then, for my birthday last year, I was gifted this beauty. I had high hopes of hyperfocusing on a holiday, gingerbread instance of fancy bundt. However, as usual, time ran away from me and I gave up on that idea, stuffing the pan to the back of my cabinet.
Last week I was contemplating what type of dessert I should make for a missions event at our church. This event has become one of my outlets to try new or special desserts such as these Chai Infused Almond Cake Mix Cookies with Lemon Whipped Cream Filling and an experimental Markham and Fitz copycat chocolate mousse. I could almost hear the "ah-ha!" audibly in my brain as it was storming. I could use my fancy new bundt cake pan!
The flavor inspiration
At the time I was obsessed with creamy orange flavors (pregnancy cravings had just convinced me to make a DIY Orange Julius in the days leading up to this epiphany). Thus I dreamed up a cake that combined some of my favorite flavor pairings along with my favorite dessert feature – homemade whipped cream.
The base of this cake was an orange cardamom cake recipe found on Martha Stewart's website. I then borrowed a delightful pistachio crumb topping from this cake by Lily at Kale and Caramel, which I have made before and adore. I glazed it with a marinated orange syrup that accompanies this recipe for Ris a la Malta by Linda at Call me Cupcake. The whipped cream was simply dreamt up by the whims of my palate and the added décor was a result of my persistent extra-ness.
Some Takeaways
This bundt pan is so beautiful!!! I might need allllll the designs now.
I spent a good deal of time researching how to make sure my cake came out clean and it really did turn out so great! I used Crisco vegetable shortening and a thorough dusting of flour and turned it over soon after it came out of the oven while it was still hot.
This took a long time but was very fun for me.
The cake didn't carry a very strong orange flavor and I think that is because I used Cara Cara oranges which were very sweet and subtle. I also don't think I used quite enough juice (the base recipe used orange liqueur, which I omitted, and I replaced some of it with additional orange juice, but I was afraid of using too much so I compromised with about 3/4 cup.)
If you ever attempt to make candied orange peels, do not, I repeat, do NOT leave the sugar mixture on the stove for even a moment! I burnt my first batch, pulled a long string of peel out of the second batch, only to turn around and leave it a moment too long, resulting in yet another pot of burnt sugar!
Orange Cardamom Bundt Cake with Pistachio Crumble
Ingredients
Cake
2

tbsp

vegetable shortening

for coating the pan

3

tbsp

flour

for dusting the pan

2

sticks

butter

room temperature

3

cups

unbleached all-purpose flour

1/2

cup

whole milk

2

tbsp

grated orange zest

3/4

cup

fresh orange juice

about 2 oranges

1

tsp

baking powder

3/4

tsp

baking soda

1 1/2

tsp

kosher salt

1 1/4

tsp

ground cardamom

1 1/2

cups

sugar

4

large eggs

room temperature

1

tbsp

pure vanilla paste or extract
Pistachio Crumble
1/2

cup

shelled roasted pistachios

3/4

cup

all-purpose flour

1/4

tsp

seal salt

2

tbsp

vegetable oil of choice

like grapeseed, safflower, or avocado

2

tbsp

maple syrup

or agave or liquid sweetener of choice

3/4

tsp

lemon or orange zest
Glaze
1/2

cup

water

1/2

cup

granulated sugar

2

whole cloves

2

cardamom pods

1-2

tbsp

dark rum

(can be omitted)

2-3

oranges
Whipped Cream Topping
1

pint

heavy whipping cream

1 1/2

tbsp

instant pudding mix

vanilla or butterscotch

1/4

cup

powdered sugar

sifted

pinch

salt

1/8

tsp

ground cardamom

1

tbsp

maple syrup

(optional)

1

tbsp

orange zest

2

tsp

vanilla bean paste or extract
Instructions
Cake
For the Cake: Preheat oven to 350°F. Brush a 10-to-15-cup Bundt pan with shortening; dust with flour, tapping out excess.

In a small bowl, stir together milk and orange juice. In another bowl, whisk together flour, baking powder, baking soda, salt, and cardamom to thoroughly combine.

Beat butter with sugar and orange zest on medium‐high speed until pale and fluffy, 2 to 3 minutes. Beat in eggs, one at a time, then vanilla. Reduce speed to medium‐low and beat in flour mixture, alternating with milk mixture, each in two additions. Transfer batter to prepared pan; smooth top with a spatula.

In a high speed blender or food processor, grind the pistachios into a fine meal. Add flour and salt (only if nuts are not salted). Add oil, maple syrup, and lemon zest, and quickly pulse until you've got a sand-like texture. Sprinkle evenly over the top of the batter.

Bake until cake is puffed slightly and a wooden skewer inserted into center comes out clean, about 45-60 minutes. Let cool in pan on a wire rack for maximum of 15 minutes.
Orange glaze
Combine water, sugar, cloves and cardamom pods in a saucepan. Let come to a boil, then simmer for 6-8 minutes, swirling the pan every now and then, until syrup is slightly thickened. Remove from heat and stir in the rum.

Cut away the ends of the oranges, then cut down the sides to remove the peel and the white pith. Thinly slice the oranges and place them in a bowl. Pour the syrup over the orange slices

Use a pastry brush to cover the cake in the glaze. Reserve the orange slices for decoration and topping. (Discard the cloves and cardamom pods before serving.)
Whipped Cream
Whip cold heavy cream in a mixer or with a hand mixer along with pudding mix, powdered sugar, vanilla, salt, cardamom powder, maple syrup, and orange zest until stiff peaks form.

Serve slices of cake topped with marinated oranges and whipped cream.
Notes
This batter is for a larger bundt pan, but if using the smaller size it will still work, simply compress the cake gently as soon as it comes out of the oven.
Cover the cake with foil or parchment partway through the baking process to help flatten the base and prevent over-browning.
I didn't include candied orange peel in the recipe, but it can make a tasty addition.