Modern Peach and Gray Baby Shower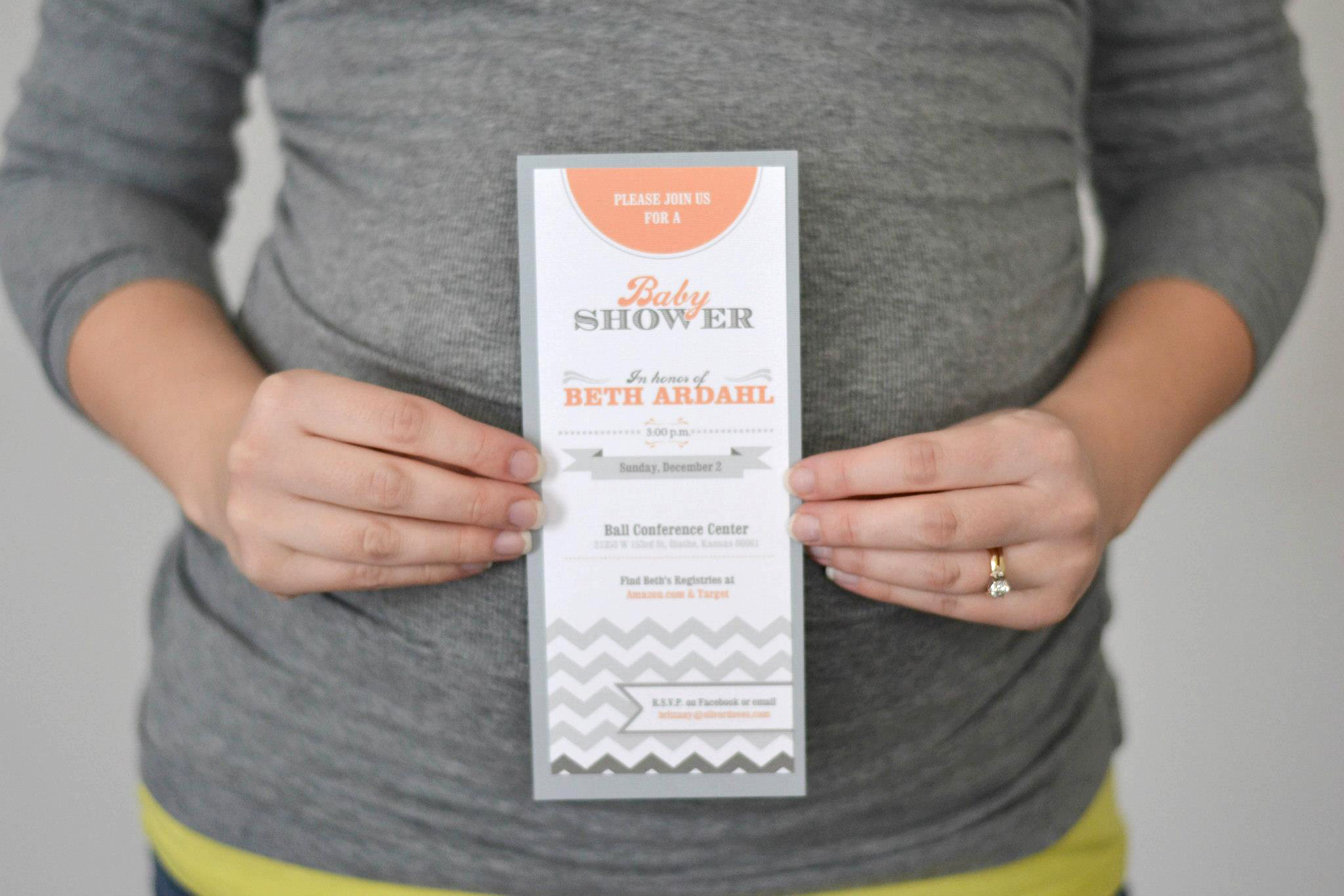 Just a couple months after the birth of Miles, I threw a shower for my good friend, Beth, who was expecting her second baby girl. It's been a long time, but I'm still pretty proud of the work we did to put it all together. I'm here to share some of the design details and party planning pieces that came together to make a baby shower for her little baby girl, Nova Rae, possible. Beth and I share a very similar taste in all things clean, simple, modern and gray. It offered me the perfect opportunity to dream up a shower that would make us both giggly with delight. I apologize if you find these descriptions boring or clinical sounding. I just wanted to get all the info out there and give as much detail as I could muster, because that's what I like to see when I read posts like this!
Details
Invitations, Labels, Signs, Party Games and all printed material:
Designed by myself, printed at home using my Ink Jet printer on white textured paper from Hobby Lobby. All together I designed and printed invitations, address labels for the invitation envelopes, food label cards for the dessert table, party games such as mad-libs and advice to the mom, hot chocolate favor bag labels and a few random signs here and there.
Centerpieces for guest tables
DIY 2-tiered platter trays were made using plates and candle sticks that were found at a thrift store, gorilla glued together and spray-painted white (the glue was NOT the right way to do this and they eventually all fell apart because the pieces were too heavy) I topped the DIY display platters with fishbowl vases filled with flowers from walmart, Aldi and Hen House that I cut and grouped in simple arrangements of white, bright pink and light orange. On the lower tier of the centerpiece we spread an assortment of chips and dips provided by Beth's good friend, Libby.
Favors
I took white lunch bags (from walmart) stuffed each bag with a packet of hot cocoa, a small baggie of mini-marshmallows, and a variety of individual creamers. I then folded the tops of the bags over, layered a loop of orange yarn and a flag label, and used a sewing machine and gray thread to stitch the whole length of the top closed. To complete our hot chocolate bar, we had them set up on a table with some small, white mugs I found at a thrift store and hot water to use for mixing up the drinks. I also included a few more options for flavors and toppings there, too.
Dessert Table
For the backdrop I used a 2″ paper punch to punch out a gazillion circles from metallic, gray paper (Hobby Lobby), then I used a sewing machine and gray thread to stitch them together into long strands. These strings of silver circles sure have come in handy since! I used them as table runner decorations at Miles 1st birthday party and for decorating around the apartment. I expect to use them a bunch in the future, as well. In between the strands I hung frosted white Christmas ornaments. The larger ornaments I filled with a small handful of orange tulle. The orange was a brighter hue, but the frosted globe transformed it into the perfect color. The cake was created using 4 or 5 layer small circle cake, with an attempt at an ombre interior. It was not my best work, but it did the trick. Haha. I used a ribbon and fabric flower I made to wrap around the base of the cake. For the topper I made pom poms out of pink, orange and white yard, as well as some fabric poms using circles of grey polyester. I glued them to cake pop sticks and stuck those suckers in (see what I did there?) The food selection for the dessert table was potentially over-kill, but I had so many Pinterest ideas I was anxious to try! I will link each of the foods I list to the most appropriate source, although I put my own spin on some of them.
4 Layer Cake
Orange Creamsicle Truffles
Caramel Cheesecake Apple Dip
White Chocolate Kissed Raspberries
Creme Filled Orange Cookies
Strawberry Wafer Cookies
Pumpkin Spice Cupcakes
Old Fashioned Pink Popcorn
Orange Creamsicle Puppy Chow
Orange Creamsicle Popcorn
Strawberry Crinkle Cookies
Hot Chocolate Station
Red Raspberry Ginger-Ale & Creamy Orange Ice-Cream Floats
Shower Games
Besides the mad-libs (which we never got to use because I left the important part at home) and advice cards, we also played the box game listed here (with a few variations), using one box per each of the four tables, and pictionary using baby-related words. I wanted to get these details out there in detail (haha) because of all the time and thought and effort that went into putting this all together. Plus, these colors still make me all dreamy inside when I see them together. GREY ALL THE WAY!!!!!! :)